Conference Reports
Details

Written by

Douglas Eadline

Hits: 3273
Details

Written by

Douglas Eadline

Hits: 5993
When I travel to the west coast (I live on the east coast) it takes my body 3-4 days to adjust, which is always when it is time to head home. I was out last night for a late dinner, got back to the hotel about midnight and woke up wide awake at 5:30am. By this afternoon I will be dragging my feet. It may be time for my first Red Bull (maybe that should be plural).
I'm still shifting through the news and I'll have more coverage throught week, but the big "tend" seems to be GP-GPU computing. Everyone is talking about it and there are plenty of products on the show floor. Of course it could be that the whole concept of racking, stacking, and managing clusters has been discussed to the Nth degree and GP-GPUs are fresh idea worth considering.
The Beobash was a great success. Here are some pictures and comments from John Leidel over at InsideHPC. Thanks to all the sponsors and the Linux Chick for all their support. I'll be posting video next week. Speaking of video, I have been spending a bunch of time doing video un-professional interviews for Linux Magazine. They should be hitting the web next week as well.
Someone also said they saw a hard copy of "HPC Dummies" at the show. Boy it would be nice to get copy of the book I wrote (some may call it a pamphlet). I'll down a few Red Bull and go on a quest today to see if I can snag a copy. There is nothing like a caffeine crazed overly tired writer pestering you at a trade show.
One final bit of news. I have a prototype of my Limulus personal cluster workstation up and running. If you are SC09, it is in the SICORP booth (1209). You can find more information (pictures and slide deck) on the project site. You want one of these.
Details

Written by

Douglas Eadline

Hits: 6449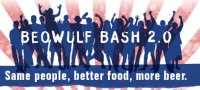 In keeping with our tradition of timely reporting, we are pleased to release the SC08 Beowulf Bash pictures. Snapshots that were found to be inappropriate for those under the age of 18 have been sent for further review. The party was a huge success. Although, I was a little uncomfortable with the public humiliation by the piano player dude, I don't think anyone will remember anyway.
Details

Written by

Jeff Layton

Hits: 7926
Nothing stops a cluster geek, not even surgery
As some of you might know I ended up spending a great deal of SC08 either in the hospital or in my hotel room recovering from emergency surgery. Not the best way to spend SC since it only comes once a year, but my body just didn't allow it. However, I did get out a little on the last day to run around the show floor like a mad man.
SC is always a very interesting conference for me for many reasons. I get to see some cool new toys, see old friends, make new ones, and totally geek-out for a week without my family rolling their eyes at me in total embarrassment. So, without further ado, here are my (limited) impressions of SC08