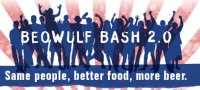 In keeping with our tradition of timely reporting, we are pleased to release the SC08 Beowulf Bash pictures. Snapshots that were found to be inappropriate for those under the age of 18 have been sent for further review. The party was a huge success. Although, I was a little uncomfortable with the public humiliation by the piano player dude, I don't think anyone will remember anyway.
We want to thank our sponsors one more time! This years sponsors were AMD, Cluster Monkey, NVidia, ClusterCorp, Penguin/Sclyd Computing, Terascala, and Xand Marketing. Thanks for supporting the community. Navigation tip: After you click on a thumbnail, hover the mouse on top of the right or left side of the image to see the next or previous image respectively.
See you next year in Portland!