Select News
The news in this category has been selected by us because we thought it would be interestingto hard core cluster geeks. Of course, you don't have to be a cluster geek to read the news stories.
Details

Written by

Douglas Eadline

Hits: 6849
Want to become a cluster ninja and move one step closer to that world domination goal? If you answered, yes, your opportunity awaits this Spring and Summer. One might consider this a shameless plug, but in the interest of world domination (yours not mine) I invite you to take a look at the upcoming raft of advanced cluster short courses. These courses are brought to you by the ARC at Georgetown University. More information can be found at the ARC HPC Training Page. Here is a list of the scheduled courses:
April 17-20 Introduction Beowulf Design, Planning, Building and Administration
June 4-5 Advanced Sun Grid Engine
June 6-8 Intermediate Beowulf Administration and Optimization
June 11-13 Advanced Condor Job Scheduler Configuration and Administration
July 16-20 Introduction to Parallel and Distributed Programming
Class size is limited, so if you have interest, sign up early. I'm slated to teach the Intermediate Administration and Optimization course. I grade on a curve.
Details

Written by

Dan Stanzione

Hits: 8014
From the Ethernet rules the day, department
We are pleased to announce the new software package developed by a team of Cluster Monkey researchers including Robert Brown, Jeff Layton, and Douglas Eadine. The project was sponsored by the Beowulf Legacy Enhanced Ethernet Project (BLEEP). The results of the these efforts is a new software package called Geyser™ that will be available for Linux later this month. By substituting the Geyser™ drivers in the Linux Kernel, a standard Ethernet card can transmit at more than double the standard Gigabit Ethernet rate. Moreover the single bit latencies are less then one microsecond. Please read the theoretical background to fully understand this report.
Details

Written by

Douglas Eadline

Hits: 6114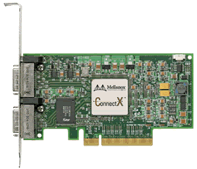 How Low can you go?
Mellanox has just announced their new ConnectX HCA's that provide 1.2 μsecond MPI ping latency. Other features include, 10 or 20Gb/s InfiniBand ports CPU offload of transport operations, End-to-end QoS and congestion control, Hardware-based I/O virtualization, and TCP/UDP/IP stateless offload. The press release follows.
Details

Written by

Administrator

Hits: 6849
New Workstation from Appro Packs in the Cores.
Appro International has just announced the XtremeWorkstation. -- a deskside workstation that can hold up to four (4) AMD Opteron Processors. So let's do some math. With four sockets, that is eight cores in one box, and when the Barcelona quad-core comes out, that is 16 cores in one box. Remember your first 16 node cluster? Now you can get 16 cores in a single desk side SMP system (Symmetric Multi-Processing).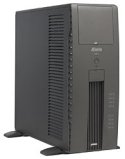 Here are some details, the XtremeWorkstation offers a maximum of 128GB of memory, up to 4 TB of SATA disk space, dual GigE, up to two PCI-Express x16 slots for high-end graphics cards such as the nVidia Quadro FX4500 X2 or the nVidia Quadro FX5500 and plenty more (pdf data sheet). Supports Linux and Windows.
There are no interconnects other than HyperTransport. The good news is you can run all your existing MPI codes so there is no need to pull out messages and add threads to your application (unless you want to of course).