Now that we are partially recovered from SC06, some accounting of what happened is in order. First, as
mentioned
, a panel which discussed
The Commercialization of Open Source - for better or worse?
was held before the annual
BeoBash
. If you missed the panel, you are in luck because you can hear it in its entiretly on
ClusterCast!
Take moment to listen to the what the panel had to say, you will find it interesting. Pictures and notes about the BeoBash follow. (Pictures courtesy of Doug Shubert)
Open Source Panel
The panel (pictured below left to right) included Mike Fitzmaurice, HPC Technologist at
GTSI Corp.
and founder of the
Baltimore Area Beowulf Users Group
, Thomas Sterling, Faculty Associate, Center for Advanced Computing Research, California Institute of Technology (Caltech) and Beowulf cluster co-inventor, Donald Becker, CTO of
Penguin Computing
and Beowulf cluster co-inventor, and Douglas Eadline (moderator).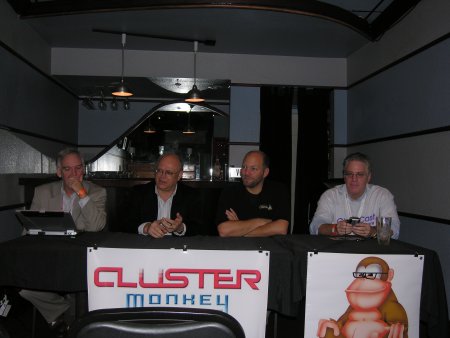 BeoBash
Immediately after the panel, the
8th Annual BeoBash
was held. The sponsors included
Intel
,
Etnus
, and
Penguin/Scyld
!
As in years past many of the early Beowulf adopters gather at the BeoBash and this year was no exception. The room was packed with many of those who started using clusters and Linux long before the it over took the supercomputing market. Indeed, pictured below are Thomas Sterling and Jim Fisher who in addition to Don Becker, were the heart of the Beowulf project at NASA. Although Thomas and Don are often mentioned in regards to to the Beowulf Project, it was Jim who provided the funds! Thanks Jim!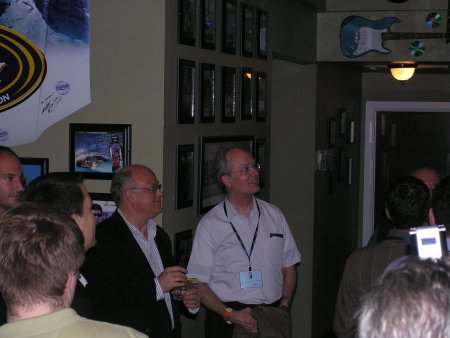 Food and drinks were enjoyed by everyone. It should be mentioned however, the crowed was taken aback, when some guy in orange shorts jumped up on the bar where he told the crowd he was sick of all this cluster crap and had decided to change his occupation to a circus juggler. And just to prove his point he amazingly balanced two televisions on a long pole. Best of luck to that orange shorts guy.