Select News
The news in this category has been selected by us because we thought it would be interestingto hard core cluster geeks. Of course, you don't have to be a cluster geek to read the news stories.
Details

Written by

Douglas Eadline

Hits: 4571
Some conveniently late news (after SC09) for the HPC market
I may write more about SC09 in the next few weeks, but for now the video is starting to show up on at Linux Magazine and I already posted a SC09: Three Trends Worth Watching over at HPC Community. You can get a good feel for things from those two articles. I'll also be posting more video on Linux Magazine over the next several weeks.
The weeks after SC are usually quiet as the holidays approach. This year seems to be a little different. There have been more than a few interesting annoucements about the HPC market. I find it kid of interesting how all these show up after SC09. Perhaps these are the kind of announcements you don't want gobbled up by the press. In any case, I have collected the stories and added a little commentary to each. An interesting time in HPC to say the least.
Details

Written by

Douglas Eadline

Hits: 7280
That is parallelization not paralyzation
Recently, I had a conversation with Dmitry Tkachev of T-Platforms. Of course many of you may not know about T-Platforms because you don't buy clusters in Russia. Dmitry was not trying to sell me a cluster, however. He was pointing me to some auto-parallelizing compiler technology from a Russian software company called Optimitech.
I asked Dmitry if he could provide a brief summary of what Optimitech was developing for the HPC crowd as they offer some auto-parallelizing patches to gcc/gfortran. In any case, I'll let Dmitry continue (I helped with the grammar a bit, although some may consider my help questionable.)
Read more: Automatic Parallelization for GCC (beta)
Details

Written by

Douglas Eadline

Hits: 4413
I'm at the NVIDIA GPU conference and yesterday they announced their next generation GPU called Fermi. Here are the key points:
C++, complementing existing support for C, Fortran, Java, Python, OpenCL and DirectCompute.
ECC, a critical requirement for datacenters and supercomputing centers deploying GPUs on a large scale
512 CUDA Cores™ featuring the new IEEE 754-2008 floating-point standard, surpassing even the most advanced CPUs
8x the peak double precision arithmetic performance over NVIDIA's last generation GPU. Double precision is critical for high-performance computing (HPC) applications such as linear algebra, numerical simulation, and quantum chemistry
NVIDIA Parallel DataCache™ - the world's first true cache hierarchy in a GPU that speeds up algorithms such as physics solvers, raytracing, and sparse matrix multiplication where data addresses are not known beforehand
NVIDIA GigaThread™ Engine with support for concurrent kernel execution, where different kernels of the same application context can execute on the GPU at the same time (eg: PhysX® fluid and rigid body solvers)
To get the full technical story, grab the Fermi White Paper. The bottom line, NVIDIA is paying attention to HPC in a BIG way.
Details

Written by

Douglas Eadline

Hits: 4949
From the shameless plug department
I was commissioned by AMD and Sun to write a short ebook called HPC For Dummies. While I could have written a much longer book, I think it delivers on the essentials. The book is available for free after registration. You do need Adobe® Digital Editions for Windows or Mac to view it (sigh, most HPC people, like me, use Linux). Update: Now it is available as PDF. Yea! Register to get it.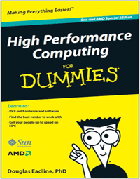 If there is interest in a longer book, either an extended HPC for Dummies or the completion of another book I started called The Art of Linux HPC Clusters, please take the front page poll to the right. The survey is important because part of getting a publisher interested in a book is convincing them someone will buy it! So if you want more/better/updated HPC Cluster Books, please help me out. By the way, all our past polls are located here.
Details

Written by

Douglas Eadline

Hits: 4614
Lower power InfiniBand, Cool Opterons, CUDA+LAPACK, HPC in the Cloud, and more
Welcome back to work, the summer is almost over and here are some things that may have happened while you were on vacation. First, I should mention, it is August 31 and I'm not sure if the temperature is going to break 70 F today. I live in the northeast part of the US and typically at this time each year the lawns are brown, the air is thick with humidity, and thunderstorms usually role in each afternoon to cool off our 90+ degree days. Not today. It must be due to all the new low wattage green technology hitting the computer market.
Read more: End Of Summer Update